产品详情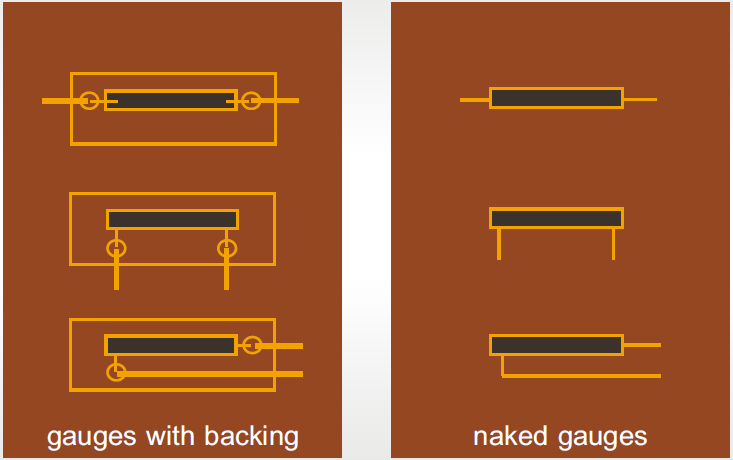 TP series semiconductor strain gages
产品编号:TP
产品描述:with backing and no-backing for selection. Gauge resistance is 15,30, 6, 120, 350,1000ohms.
产品介绍:
Feature:
TP series semiconductor strain gauge is produced by the international production and process technology. Its
performance is better than similar domestic products, with sensitivity coefficient, mechanical hysteresis, wide resistance range, lateral effect of small properties.
Application:
It is widely used as sense element for transducer manufacturing and engineering stress analysis, Semiconductor strain gauges are not only used for surveying stress distribution, or static measurement for machinery, ships, bridges, aviation, but also used for non-linearity compensation of force transducers.
Non-backing semiconductor strain gauges is available for choose.

Gauge Pattern

Backing L X W (mm)

Crystal size(mm)

Gauge ResistanceΩ

Gauge Factor

TCR*(1/℃)

TCGF**(1/℃)

Working Temp.(℃)

working current.(mA)

Strain Limit(με)

TP-5

-15

6×4,8×4

5×0.32×0.05

15

80±5%

<0.06%

<0.10%

<80

20

6000

-30

6×4,8×4

5×0.32×0.05

30

80±5%

<0.06%

<0.10%

<80

20

6000

-60

6×4,8×4

5×0.32×0.05

60

100±5%

<0.08%

<0.12%

<80

15

6000

-120

6×4,8×4

5×0.30×0.05

120

110±5%

<0.15%

<0.15%

<80

15

6000

-350

6×4,8×4

5×0.28×0.04

350

130±5%

<0.35%

<0.28%

<80

10

6000

-1000

6×4,8×4

5×0.24×0.04

1000

150±5%

<0.40%

<0.30%

<80

5

6000

TP-3.8

-15

5×3

3.8×0.24×0.05

15

80±5%

<0.06%

<0.10%

<80

20

6000

-30

5×3

3.8×0.24×0.05

30

80±5%

<0.06%

<0.10%

<80

20

6000

-60

5×3

3.8×0.24×0.05

60

100±5%

<0.08%

<0.12%

<80

15

6000

-120

5×3

3.8×0.24×0.04

120

100±5%

<0.15%

<0.15%

<80

15

6000

-350

5×3

3.8×0.22×0.05

350

130±5%

<0.35%

<0.28%

<80

10

6000

-1000

5×3

3.8×0.22×0.05

1000

150±5%

<0.40%

<0.30%

<80

5

6000

TP-3

-350

5×3

3×0.20×0.04

350

130±5%

<0.35%

<0.28%

<80

10

6000

-1000

5×3

3×0.20×0.04

1000

150±5%

<0.40%

<0.30%

<80

5

6000

TP-2.6

-1000

5×3

2.6×0.20×0.04

1000

150±5%

<0.40%

<0.30%

<80

5

6000
Note:
*TCR= temperature coefficient of resistance@32℃
**TCGF temperature coefficient of resistance@32℃
Three types of lead wire ( the default is "a" type wire lead)

※Ordering code: Gauge pattern-backing/ no backing – gauge resistance –lead wire